RELIEVE PAINFUL SYMPTOMS AND PRESERVE YOUR ORAL HEALTH WITH A WISDOM TOOTH EXTRACTION
The third molars – or wisdom teeth – are located at the back of the jaws and are the last permanent teeth to erupt. While some individuals keep their wisdom teeth for their whole lives, others will need to have them removed between the ages of 17 and 25 due to impaction, pain, or insufficient space in their jaws. Many general dentists refer wisdom tooth extraction to outside oral surgeons. However, Dr. John M. Pinnix IV and Dr. George A. Betancourt can perform the procedure in-house. Our Charlotte, NC, practice is furnished with many amenities including iPads, headphones, and leather massage chairs in each treatment room to make your experience as comfortable as possible. Additionally, we can provide nitrous oxide sedation for patients with anxiety about their upcoming procedure.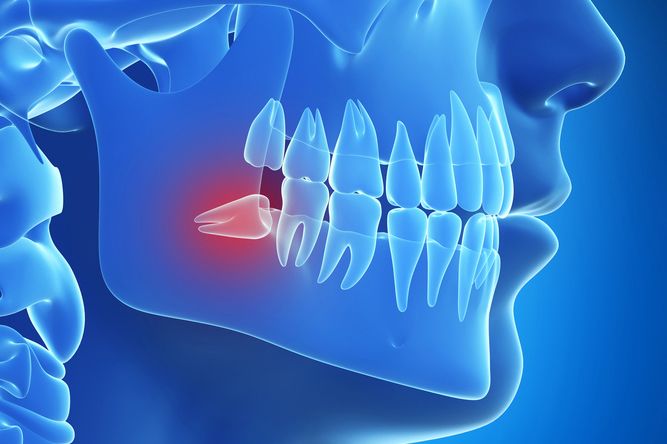 Why Extract Wisdom Teeth?
Sometimes, all four wisdom teeth erupt and function normally with no outstanding issues. Unfortunately, this is not always the case. In some patients, wisdom teeth grow in at an angle or become trapped in the jawbone. This can cause:
Pain or discomfort
Infection
Damage to neighboring teeth
Complications with orthodontic treatment
Damage to the jawbone
Development of a cyst, or fluid-filled sac, around the wisdom tooth
Most dentists recommend that patients have their wisdom teeth removed in their late teens or early twenties. Although you can have your wisdom teeth removed at any age, early extraction can reduce the risk of further complications.
Wisdom tooth extraction is a relatively simple procedure that can provide lifetime benefits.
What to Expect During Your Extraction
On the day of your surgery, one of our doctors will begin the procedure by administering local anesthesia, which will numb the treatment area. Next, a small incision will be made in the gums to access the wisdom tooth and the supporting bone. If there is bone covering the tooth, your doctor will carefully remove it. Once the entire tooth is visible, your doctor may divide the tooth into sections for easier extraction. Finally, the socket will be cleaned, the incision closed with stitches, and a piece of gauze placed over the surgical site.
At our practice, patient comfort is our top priority. We can perform low-level sedation dentistry using nitrous oxide keep you comfortable throughout your treatment.
Healing and Recovery
Following your procedure, you should go home immediately and rest. You will be given a detailed list of post-operative guidelines, which may include:
Resting for at least 48 hours
Avoiding hard or crunchy foods
Staying hydrated
Taking medications as directed
Minimizing swishing, spitting, or sucking
Not smoking
Following these instructions can help you enjoy a healthy recovery and permanent relief from the painful symptoms associated with impacted wisdom teeth.
Eliminate Jaw Pain
Wisdom tooth extraction is a relatively simple procedure that can provide lifetime benefits. If you are nervous about the treatment, we can provide low-level nitrous oxide sedation to help you relax during the procedure. To learn more about wisdom tooth extraction, schedule an appointment at Advanced Dentistry of Blakeney. You can call us at (704) 543-1102 or contact us online anytime.