PRESERVE YOUR DAMAGED TOOTH THROUGH ROOT CANAL THERAPY
Severe tooth pain or discomfort can have a negative impact on your quality of life. Although root canal therapy has a bad reputation, it is actually the answer to tooth pain, and not the cause of it. Our patients are kept very comfortable during root canal therapy, and treatment is usually completed in a single appointment. The dentists at Advanced Dentistry of Blakeney provide gentle, effective root canal therapy for patients in the Charlotte, NC-area. To eliminate your tooth pain, schedule an appointment with Dr. John M. Pinnix or Dr. George A. Betancourt today.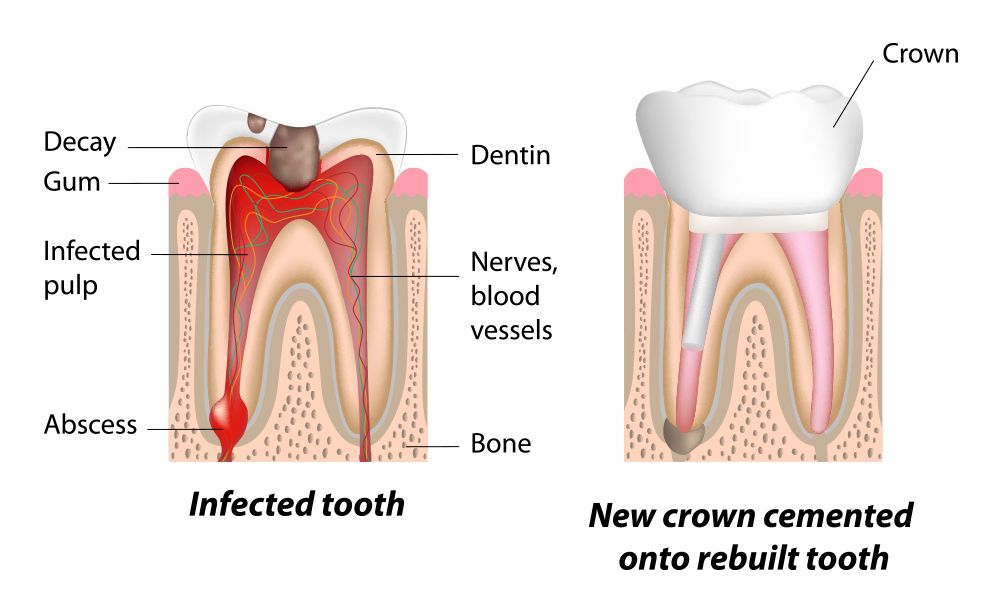 When is Root Canal Therapy Needed?
For most patients, the pain that prompted root canal therapy was the worst of the experience, and being rid of it is a great relief. In many cases, severe tooth pain is caused by a bacterial infection in the pulp chamber of the tooth. This is commonly caused by deep decay or a fracture in the tooth.
During root canal therapy, the diseased inner pulp is removed, and the clean, restored tooth is strengthened and reinforced with an attractive dental crown.
Patients in need of root canal therapy may also experience symptoms such as swelling of the gums, sensitivity to heat and cold, and discoloration of the tooth. However, if you are experiencing acute or chronic pain, it is important to contact us as soon as possible.
An untreated infection can result in loss of the tooth and necessary restoration, such as a dental implant or traditional bridge. In some cases, tooth extraction may be necessary, but alternatively, root canal therapy can preserve the structure and roots of the damaged tooth. During root canal therapy, the diseased inner pulp is removed, and the clean, restored tooth is strengthened and reinforced with an attractive dental crown.
The Root Canal Procedure
Once Dr. Pinnix or Dr. Betancourt have determined that you require root canal therapy, the first step is to make you as comfortable as possible. Advanced Dentistry offers a variety of sedation options for patients, including general anesthesia through IV sedation. Some root canal therapy patients are comfortable with only numbing solution, while others prefer nitrous oxide or oral conscious sedation.
A traditional root canal procedure involves removing infected pulp from within the tooth and its root. The root canal inside your tooth contains nerves and blood vessels that extend from the center of the tooth to the root. The canal provides blood supply, removes toxins, and brings essential nutrients to the soft pulp chamber.
We use efficient, hand-piece technology to remove infected pulp and decay from the outer portions of the tooth. The newly cleaned pulp chamber is then sterilized and sealed to prevent further infection.
Placing Your Dental Crown
Immediately following your root canal treatment, you will likely be fitted with a dental crown. The dental crown will restore full function and beauty to the tooth. We use advanced CEREC technology to design and mill our crowns onsite. Custom designed to blend in seamlessly with your other teeth, your new crown will provide durable function for many years to come.
Contact Us Today
To alleviate your tooth pain and discomfort, the team at Advanced Dentistry of Blakeney can easily accommodate your appointment, even if it is urgent. To learn more about root canal therapy and how it can help improve your quality of life, contact us today.