INVISALIGN VS BRACES: WHICH TREATMENT IS RIGHT FOR YOU?
For many years, patients who wanted straighter smiles were limited to traditional metal braces. Although braces remain an effective treatment, there are also a growing number of alternatives, including Invisalign®. If you are interested in straightening your smile, visit our Charlotte, NC, office to evaluate whether Invisalign or braces are right for you. Dr. John M. Pinnix IV and Dr. George A. Betancourt are Invisalign Premier Providers who can evaluate your case and discuss the pros and cons of each treatment to help you feel confident about your decision.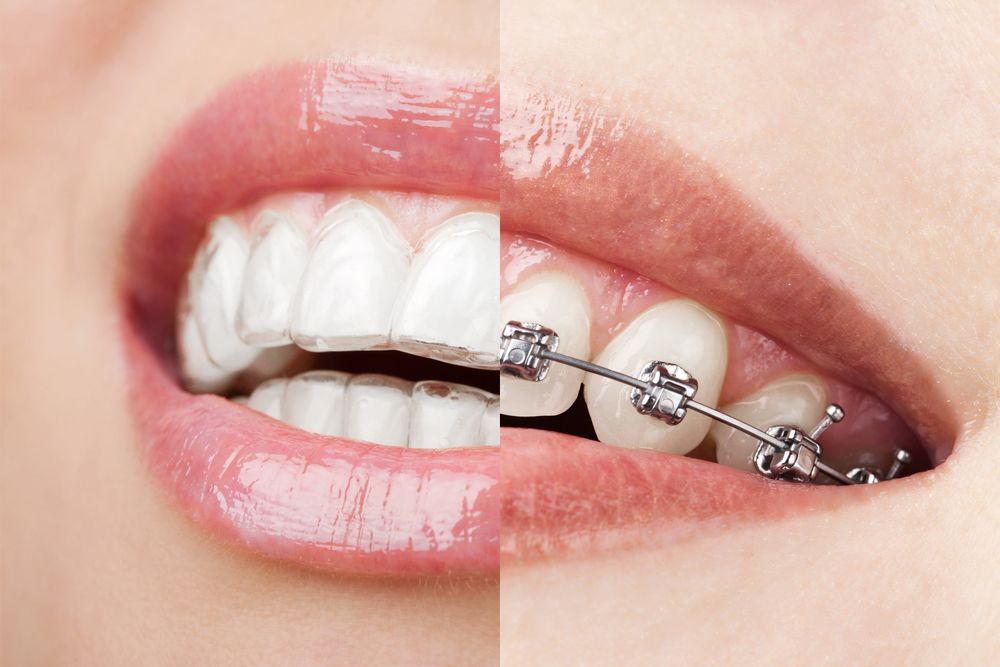 Common Features Shared by Invisalign and Braces
Both Invisalign and braces are used to gently move the teeth into their desired positions over time. Both orthodontic options have successfully corrected:
Overbites
Underbites
Crossbites
Open bites
Gapped teeth
Overlapped or crooked teeth
Tipped or rotated teeth
Most insurance providers offer coverage for both treatment options, and our office can help you arrange financing for out-of-pocket costs.
How are Braces and Invisalign Different?
In addition to the discreet look of Invisalign, there are several differences that can make it a better option for patients. During an initial consultation with one of our doctors, we can discuss the differences between each treatment to help you confidently make a decision.
Timeline
Where braces can take anywhere from 18 months to four years to correct misalignment, the Invisalign timeline is closer to 18 months total.
Cost
Although braces are a more cost-effective alternative, our office provides financing options to make Invisalign treatment more affordable.
Materials Used
While braces use rubber bands, wires, and brackets to move the teeth, the Invisalign system uses a series of clear, thermoplastic trays. Because the aligner trays are clear, most people will not even realize you are undergoing orthodontic treatment.
Most insurance providers offer coverage for both treatment options, and our office can help you arrange financing for out-of-pocket costs.
Visits to the Dentist
Braces require monthly appointments for adjustment. In contrast, Invisalign patients will simply receive a new set of aligners every four to six weeks when they come in for a check-up.
Conditions Treated
Although Invisalign can address a large majority of mild to moderate orthodontic issues, braces may be a better option for severe misalignment. Patients with more severe or complex cases of malocclusion may find that traditional orthodontic treatment is more predictable and effective.
Dietary Restrictions
Another decision factor to consider is how each option will affect your day-to-day living. Many patients choose Invisalign because there are virtually zero dietary restrictions. Because the trays are removable, you can enjoy all of your favorite foods. You can also brush and floss your teeth normally, without the need for floss threaders or specialized brushes.
Your Level of Commitment
It is important to understand that if you are not committed to wearing your aligner trays for at least 22 hours every day, then Invisalign may not be the right choice for you. Patient compliance is one of the most essential elements of treatment. If you are dedicated to wearing the trays as directed, Invisalign can offer impressive results.
Decide Which is Right for You
If you are currently considering orthodontic treatment, you may be wondering which treatment option will meet your needs and your lifestyle. To learn more about these orthodontic solutions, schedule a consultation at Advanced Dentistry of Blakeney. As always, our team is standing by to answer any questions you may have regarding treatment. Contact us online or call us at (704) 543-1102.