Damaged, decayed, or missing teeth can cause discomfort and make normal functions such as chewing and speaking more difficult.
Dr. John M. Pinnix IV and Dr. George A. Betancourt can improve your dental function and restore your health with a dental crown.
Why choose our Charlotte, NC, practice for your crown?
3 Advantages of Our Modern Treatment
Personalized Options
Our patients have several options for their dental crowns and can choose the treatment that works best for their teeth. We offer traditional crowns, same-day crowns, and implant-supported crowns to restore the form and function of your smile.
Fast Results
In many cases, we are able to place a permanent crown over the damaged tooth or dental implant in a single appointment. Our office is equipped with cutting-edge CEREC® technology that produces custom crowns in a fraction of the time as other dentists.
Comfortable Care
If you are particularly sensitive or nervous about dental work, we can provide sedation to help you stay relaxed through the procedure. Our patients have access to a range of luxury amenities in our office, and a member of our team will be happy to assist you with anything else you may need.
Repair All Kinds of Dental Problems!
When Should I See the Dentist?
If you notice oral discomfort or visible tooth damage, it is time to see a professional for treatment. The sooner you get checked out, the better. It is important to be aware that a dental problem can exist without presenting any side effects.
A small amount of decay can progress into a serious infection which may lead to expensive restorative work or even the loss of your tooth. To best maintain and improve your oral health, visit our Charlotte office for a check-up.
Schedule Your Appointment Today!
Advanced Dentistry of Blakeney has served patients throughout North Carolina since 2005. Our dentists, Dr. John M. Pinnix IV and Dr. George A. Betancourt are experts in general and comprehensive dentistry. They are dedicated to providing exemplary care to patients in Charlotte, Ballantyne, and the surrounding communities. Whether you are seeking a practice for regular dental care or a trustworthy provider for your crown, look no further than Advanced Dentistry of Blakeney. You can reach our Charlotte, NC, office conveniently online or by calling:
"They truly made the experience a positive one for me..."
I recently moved to the area and brought my fear of dentistry with me. I asked around for recommendations of a dentist Who would work with fearful patients because I knew I needed work after avoiding the dentist for years. After receiving several recommendations for Dr. Bettencourt I scheduled my consultation. My total experience from that time forward was nothing but reassuring and wonderful. Dr Bettencourt and his staff eased my fears and provided the guidance and tools I needed to get through 2 root canals with crowns, an extraction and deep gum cleaning... They truly made the experience a positive one for me.
View on Google
Dr. Pinnix and his staff make it a pleasure to come to the dentist! Amber and Kristen go out of their way to make routine cleanings comfortable and as enjoyable as possible. Dr. Pinnix is so easy to talk to and explains any issues in a way that is easy to understand. I recently had to have a partial crown to repair a broken tooth and was very impressed with the technology used in their office to create the crown in just a matter of a few minutes! I would highly recommend Dr. Pinnix and his staff.
View on Google
What can dental crown treatment do for me?
Crowns Can Improve Several Cosmetic Flaws...
See The Difference?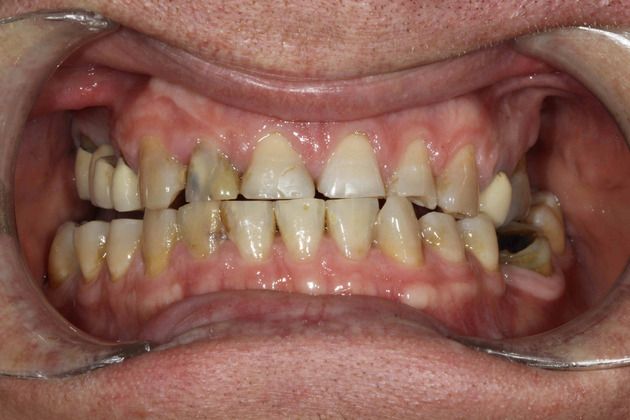 What kinds of tools and techniques do you use?
Our Modern Technology
And the CEREC System
Our Charlotte office is equipped with the latest dental technology giving our patients the most efficient and effective treatment. We start by diagnosing any problems with your teeth with digital x-rays. Digital x-rays expose patients to much less radiation than traditional images and are immediately viewable by our dentists. Next, we plan your treatment with our highly precise intraoral scanner. This wand-like device takes digital images of your teeth, eliminating the need for messy putty impressions.

Because our office is equipped with its own CEREC machine, we are able to fabricate custom same-day crowns in one office visit. This eliminates the need for temporary crowns, that tend to leave your teeth more vulnerable to damage. Your digital impressions will then be uploaded directly to our in-house CEREC milling unit which can craft a beautiful porcelain ceramic crown in under one hour.
Take a Look at How a Crown is Placed...
A Healthy Smile In Just One Day
CEREC sounds great, but what about my other options?
We Offer Other Premium Options...
Lab-Made Crown
While CEREC crowns work great for most people, some patients choose to receive a custom lab-made crown with alternative materials. Crowns can be manufactured from premium porcelain, zirconia, metals, or a blend of multiple materials to give you increased strength and natural-looking aesthetics. If you select this treatment, then we will fit you with a temporary crown while your impressions are sent to our trusted dental lab. Skilled technicians will craft the crown out of the materials of your choice and return it to our office for placement.
Implant-Supported Crown
If you are missing a tooth, or need to have a tooth extracted, dental implants are the most beneficial restorative option. Dental implants support a custom-made crown, filling your smile and improving your oral health. These small titanium implants replace your natural tooth roots, helping prevent bone recession and further tooth loss. While implant-supported crowns are initially more expensive than alternative options like a dental bridge, they are much more durable and can save you money in the long run.
Timeline for Dental Crown Treatment
Our in-house CEREC milling unit can craft a beautiful porcelain ceramic crown in under one hour.
Take the First Step Towards A Healthy Smile

If you have been living with a missing or damaged tooth, don't delay treatment. With sedation dentistry and several cutting-edge crown options, you can be confident that you in the best hands at our Charlotte practice. Schedule your consultation at Advanced Dentistry of Blakeney today. You can make an appointment online, or by calling:
Comfortable and Stress-Free Treatment
A Closer Look at Sedation
Despite common misconceptions, getting a root canal and dental crown is actually pretty painless. However, we understand some patients suffer from dental phobia, and low pain thresholds, making a trip to the dentist a stressful experience. Fortunately, Drs. Pinnix and Betancourt have additional training in sedation and offer several options to best suit your needs. Patients of our Charlotte practice can receive:
Nitrous oxide
General anesthesia
Deeper forms of sedation are typically recommended for patients who are undergoing extensive rehabilitation or surgery. Our dentists typically recommend oral conscious, or nitrous oxide for crown treatment.
"professionally handled and pain-free..."
I cannot heap enough praise on this dental practice! For no good reason I have high anxiety when visiting the dentist and have never ever received such good care and understanding as I have had at this facility! They literally work at making my anxiety go away and at the end I always leave wondering why I was so nervous in the first place! I highly recommend!!!!
View on Google
I have been going to Advanced Dentistry of Blakeney for over 7 years and have always received the best care and professional advice there. They are an amazing and super professional team of dentists and staff. They discuss every procedure in detail and provide different options where appropriate. Every appointment is professionally handled and pain free. Would never consider going anywhere else. By far the best dental office that I have ever been to.
View on Google
Are dental crowns expensive?
Every crown is custom-made for your teeth and can vary in price depending on a patient's needs. In some cases, CEREC same-day crowns are the most affordable option. By eliminating the costs of a temporary crown, multiple office visits, and additional sedation, patients can save money and time with a CEREC crown.

Implant-supported crowns are often the priciest option. However, because dental implants are so much stabler and durable than other restorative methods, they offer unparalleled oral health benefits. Despite the initial investment, implants can help you save money on future restorative work in the long run.
How do I take care of my crown at home?
Although dental crowns are built to last, they are not indestructible. By taking good care of your teeth, and avoiding certain habits, your crown can last for well over a decade before needing replacement. Here are some tips to help you protect your dental crown...
Watch What You Eat
Avoid using your crown to chew especially hard or sticky foods that could crack the porcelain, or dislodge the crown from your teeth.
Practice Good Dental Hygiene
While you should brush your crown like you would your natural teeth, but you may need to alter your flossing technique. Pull the thread from front to back rather than moving it up and down within the gap. This will minimize the risk of the thread catching beneath the crown and causing it to become loose.
Attend Biannual Check-ups
Make sure to schedule visits to our Charlotte practice twice a year for a routine exam and cleaning. Our dentists will be able to check the integrity of your crown, and make adjustments, or recommend a replacement if necessary.
"Dr. Betancourt and his staff are a class act; not only the highest level of professionalism but also taking the time to make a patient feel comfortable, informed, and well cared for. Hard to believe I have been looking forward to my visits there! I can only recommend Advanced Dentistry in good conscience."

Ted Braun