Treatment for the Stages of Gum Disease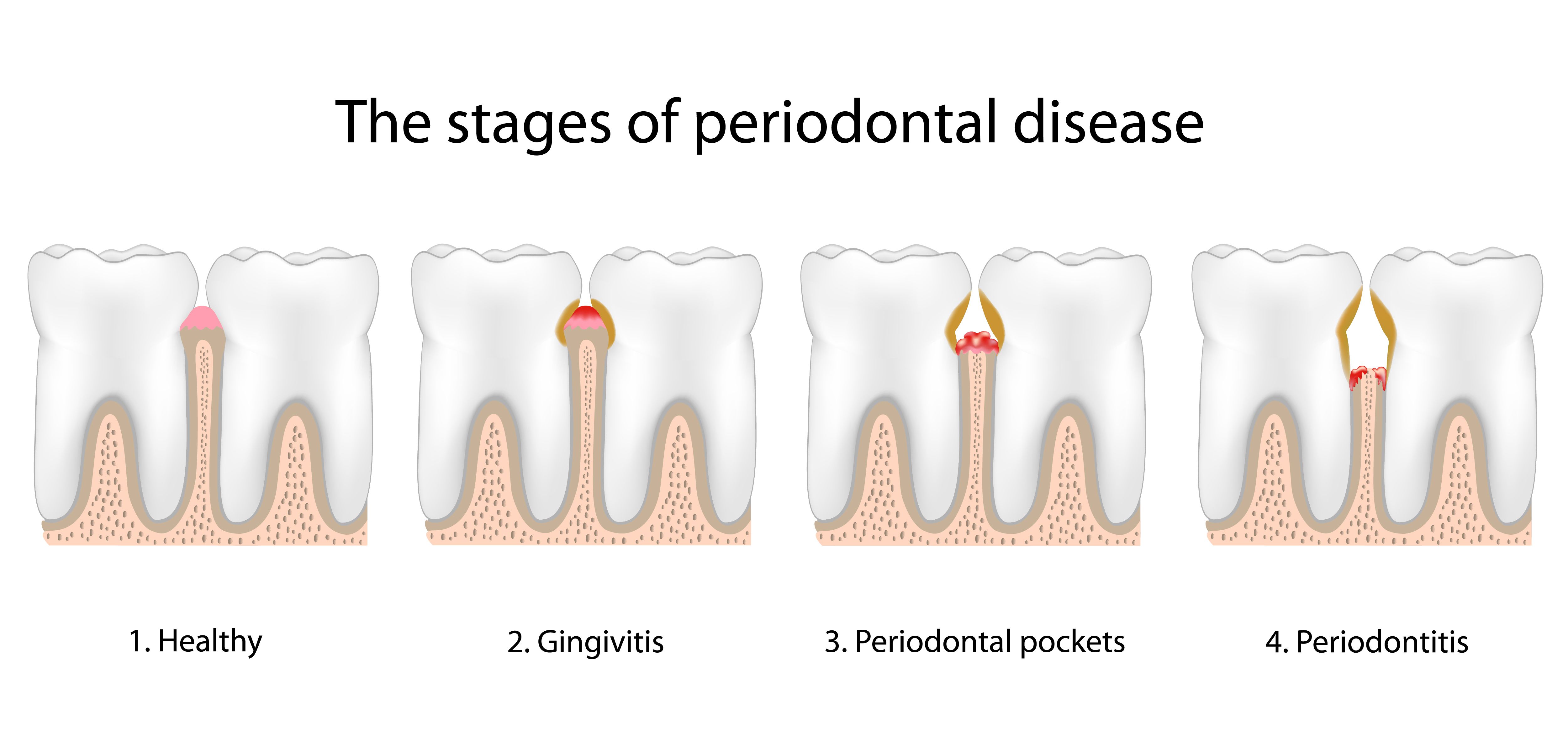 Gum disease is a progressive condition that can seriously threaten the health of the teeth and the structure of the smile. Fortunately, with routine dental exams and cleanings, most patients can have gum disease diagnosed and treated before it reaches its more advanced stages.
At Advanced Dentistry of Blakeney, we offer a range of periodontal care services to improve gum health and protect the overall health of the smile. Here, patients can learn more about the stages of gum disease, and the services available to our Charlotte, NC patients. We can perform treatment to restore gum health and prevent the most serious complications of gum disease, including tooth loss.
Stage One: Gingivitis
Gingivitis is the first stage of gum disease. Gingivitis is extremely common. Most patients who are suffering from gingivitis do not realize that they have the condition until it is diagnosed by one of our dentists. It is rare for gingivitis to cause any noticeable side effects. Although the gums may darken and swell slightly, it is usually not obvious enough to cause any concern on the part of the patient. Fortunately, gingivitis is fairly easy to treat. In most cases, a thorough dental cleaning, followed by an improvement in oral hygiene habits is enough to get gingivitis under control.
Stage Two: Periodontal Pockets
If a patient neglects oral care or skips a routine dental cleaning, gingivitis may develop into a more serious condition. Without treatment, gum disease will progress and it is likely that periodontal pockets will form. Periodontal pockets are spaces between the gums and the base of the teeth.
Periodontal pockets are dangerous because bacteria can buildup in these crevices, making it easier for bacteria to reach underlying gum tissues. Periodontal pockets require more than a routine dental cleaning. Once the pockets have formed, patients will need to undergo a deep cleaning called scaling and root planing.
During this treatment, bacteria will be removed from the crown of the tooth, as well as the tooth that lies beneath the gum line. The roots of the tooth will then be planed, or smoothed out, to make it more difficult for bacteria to cling to the roots of the teeth. This cleaning usually includes an antibacterial rinse that further ensures that bacteria are removed. With bacteria under control, the gums will be able to heal and grow new tissues so that periodontal pockets can close up.
Stage Three: Periodontitis
If periodontal pockets are not treated appropriately, bacteria will continue to thrive beneath the gum line. Gum infection, also known as periodontitis, can result in symptoms such as red, swollen gums, bleeding gums, gum recession, and halitosis. In many cases, periodontitis can be successfully treated with scaling and root planing, the same treatment method used to address periodontal pockets. This treatment eliminates infection and allows the gum tissues to heal and regenerate.
Stage Four: Advanced Periodontitis
As periodontitis progresses, the threat to oral health becomes more severe. The gums, connective tissues, and jawbone are all at risk when infection takes over. As the gums continue to recede, patients may notice a loosening of the teeth. Once teeth are loose, the patient has reached the advanced stages of periodontitis. Advanced periodontitis may not be adequately treated with scaling and root planing. Patients experiencing this stage of gum disease often require surgical treatment, which may include gum grafting, bone grafting, or tooth extraction.
Schedule an Appointment
No matter how advanced gum disease may be, the experienced dentists at Advanced Dentistry of Blakeney can improve your oral health. Schedule an appointment at your earliest convenience to learn more about our periodontal services and which may be most appropriate for your unique situation.
Related to This